Polyurethane-lined Steel Composite Pipe
Product type-description:
Polyurethane-lined steel composite pipe takes steel pipe as matrix,lined with high wear resistant, flexible and corrosion resistant polyurethane materials,and is made by special process.Polyurethane-lined steel composite pipe has comprehensive performance of excellent wear-resisting, acid-proof, anti-alkali, anti-scaling, radiation resistance, hydrolysis resistance, high elasticity, mechanical impact resistance etc.

Characteristics:
  Excellent Wearability:Due to a better elasticity of polyurethane lining, when subjected to the impact of medium, polyurethane is forced to compress under the action of external force.After external force disappears,polyurethane recovers.This kind of "conquering the unyielding with the yielding" greatly reduces abrasion caused by direct and intense erosion to inner wall of pipe.Its wear life is dozen of times than steel pipe. Anti-scaling:The inner wall is smooth and transparent, and the absolute roughness of the inner wall is 0.082, which can reduce the operating expenses. Little Resistance During Operation:Unlike rubber products,there's no swelling phenomenon in the water,so its usability will not be affected. Good Water Stability and Ageing Resistance:Elastomer of polyurethane lining has a symmetrical molecular structure, which forms external nonpolar state.Thus the adsorption of CO32-, HCO3-, OH- in the slurry can't be formed.And the inner surface is smooth and has good elasticity, which prevents the adhesion of scale layer, so it has better anti- scaling performance. Good Combination:Polyurethane lining and steel pipe have a good combination.With a unique process, the combination of pouring polyurethane elastomer and steel pipe reaches 100%.Because of unique flanging process,fall off and partial tear will not appear. Weight Light&Convenient Installation:Because of the use of thin wall, the weight is relatively light. Many connection methods can be used in the installation: flange connection, flexible pipe joint connection, welding connection.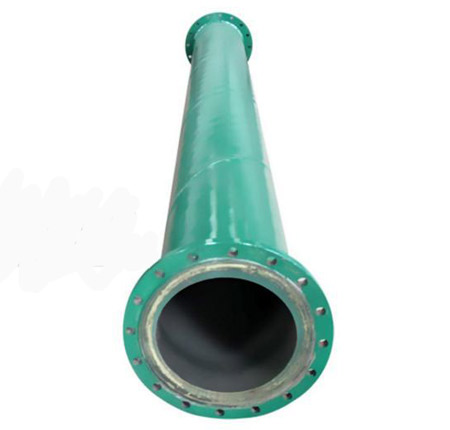 Main application:
Polyurethane composite steel pipe has comprehensive performance such as excellent wear resistance, acid-proof, anti-alkali, anti-scaling, radiation resistance, hydrolysis resistance, high elasticity,mechanical impact resistance etc. It can be widely used in the transport of coal ash, slag,mineral powder,aluminum liquid and slurry etc. and corrosive medium in electricity, coal, mining, building materials, chemical industry.
Power Industry:Ash handling pipe, slag pipe,grey water recycling pipe of thermal power plant.For fresh water in power plant, it is better to use polyurethane composite pipe in the transport system of ash handling and acid medium.
Coal Industry:Dense-medium separation and long distance coal conveying pipe system in coal washery.Sand backfill in coal mining.
Mining Industry:Iron ore slurry, ore concentrate, tailings transportation system; closed cycle pipe floatation system;water and sediment transportation system.
Building Materials, Chemical Industry:Coke particles transportation in iron and steel plant;red mud transportation in aluminium manufacturer;coal dust transportation in cement plant.Transportation of corrosive acid and salt,fluid pipelines,such as pipelines in oil production, silt removal engineering, urban water supply system, and Al fluid conveying pipe. All have obvious effects.