BMRS Series Horizontal Multi-stage Centrifugal Pump
Product type-description:
  BMRS type horizontal multi-stage centrifugal pump is two-end supporting centrifugal pump of horizontal type,multi-stage and single shell radially split.It's also called multi-stage single shell segmental pump.It's designed according to API610standard,BB4 type.This series of pump casing is radial diffuser structure, and center support or foot support structure can be selected according to the temperature, inlet and outlet are flexibly multi-direction arranged according to user requirement.First stage impeller and secondary impeller have different design concept, the former considers pump's cavitation performance, and the latter considers pump's efficiency,which make the whole pump have excellent cavitation performance and efficiency.The sealing system is fully in accordance with the API682 third version of Centrifugal Pump and Rotary Shaft Seal System.It can configure various forms of sealing and flushing cooling scheme and fit all kinds of complex conditions.Balancing device, this series of pumps adopts balancing drum.The structure of balancing drum can better balance axial force, reduce the burden on the bearing, prolong the service life of the bearing; the bearing has self-lubricating bearing and forced-lubrication bearing, we can choose one of them according to the actual situation of the pump.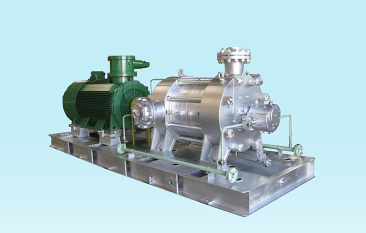 Parameters:
Standard:API610
Capacity:20~900 m3/h
Head: ~1800m
Pressure:27MPa
Temperature:-80~210ºC
Application: it can transport a variety of clean or slightly polluted,flammable,explosive, neutral, strong corrosive media and is mainly used in cooling or heating system, boiler feed water, condensate water, descaling and general industrial applications.
Cross-section Diagram: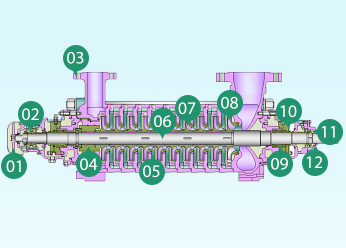 1.Configured fan cools bearing box.
2.Face to face angular conical roller bearing guarantee carrying capacity of the bearing and avoid bearing overheat.Thin oil lubrication.
3.Foot mounting, inlet and outlet can have different choices in accordance with user requirement,which make site installation convenient.
4.Axial force adopts balancing drum+balancing drum jacket structure.Simple structure and good balance effect.
5.All wear-ring, interstage bush and throttle clearance use non-occlusal pairing materials that have high hardness .Higher hardness can be achieved through surface treatment,thus wear media such as solid particles are conveyed.
6.Impeller shaft is positioned to keep certain installation space in order to reduce deformation of the shaft as temperature changes.The whole rotor conducts dynamic balance test to ensure rotor stability.
7.Secondary impeller has a higher efficiency index, the whole series of products have advantages of high efficiency and energy saving.
8.First-stage impeller is designed separately, with high anti-cavitation performance.
9.API682 standard seal chamber,and different seal forms can be configured according to operating conditions and user requirements.
10. Cartridge single mechanical seal or tandem double mechanical seal achieves better seal effect.
11.Radial cylindrical roller bearing can bear radial load.
12.Maze dust-proof plate.It can effectively prevent dust entering the box to cause damage to the bearing, and also prevent leakage of lubricating oil, thus improve bearing life.