BMA Type Petrochemical Process Pump
Product type-description:
BMA Type petrochemical process pump is a two-end supporting centrifugal pump of horizontal type ,multi-stage,first stage double suction or single suction, longitudinally split.It is designed according to API610 standard,BB3 type.Its impellers are arranged symmetrically to balance axial force,which reduces the failure rate of balance mechanism. Its inlet and outlet are on the bottom,so this pump can be disassembled without moving pipes in the course of maintenance and repair.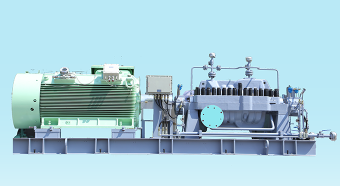 Parameters:
Standard:API610
Capacity:20~2500 m3/h
Head: 70~1200m
Pressure:15MPa
Temperature:-40~200ºC
Application:this series of pumps is suitable for conveying neutral or corrosive, clean or particle-containing liquid.It has been widely and maturely used in coal chemical industry, pipeline transportation, chemical fertilizer production, turbine, water treatment and all kinds of power plants.
Cross-section Diagram: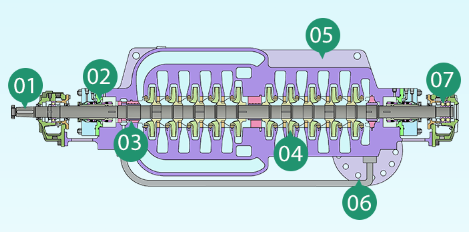 1.Conical shaft end is convenient for assembly and disassembly.Site seal replacement,normal maintenance etc are also convenient.
2.API682 standard seal chamber,and different seal forms can be configured according to operating conditions and user requirements.
3.All wear-ring, interstage bush and throttle clearance use non-occlusal pairing materials that have high hardness .Higher hardness can be achieved through surface treatment,thus wear media such as solid particles are conveyed.
4.Impeller heating assembly,and interference fit.The entire rotor has good rigidity and small deflection,which ensure running clearance and stable operation.Symmetrical impeller arrangement;self-balancing axial force.
5.Split type pump body is convenient for assembly.Double volute makes self-balancing axial force.Pump casing has good intensity and rigidity through exact calculation,which enhance the reliability and stability of operation.
6.Pump inlet and outlet are at the bottom of pump body.It only needs to open upper cover of pump body in the course of maintenance and repair.There's no need to move the pipeline, thus reduce maintenance time and improve maintenance efficiency.
7.Many kinds of bearing forms for different powers. The housing reserves various kinds of instrument interfaces for users to choose. Dust-proof structure is designed to prevent oil leaking and dust entering the box.